Consulting and Business Counseling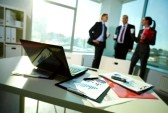 We combine our knowledge of your industry and the ever-changing body of tax laws to develop suggestions and strategies to effectively manage the tax burden and maximize the Company's returns to its members. Some of these services which would be available to you include:
Periodic meetings to discuss financial statements, analysis, contemplated transactions or other pertinent matters.
Assistance in developing or refining accounting systems, including interdepartmental charges.
Preparation, development and/or review of budgets.
Preparation of projections and forecasts to be used for planning, bank financing and capital investments.